Buy HoloLens 2: Advantages for companies
In 2016, Microsoft launched the first mixed reality glasses called HoloLens. Three years later, the improved successor appeared – the HoloLens 2. The new version brings some changes that affect not only the optics. The head-mounted display (HMD) offers a wide range of features and is perfect for industrial use. Learn more about the improvements of HoloLens2 compared to its predecessor and read why companies should buy a HoloLens 2 here.
Buy Microsoft HoloLens 2 – appearance and main area of use
The HoloLens 2 AR is a computer that can be controlled hands-free and uses Wi-Fi. You do not need any cables or other accessories to use it. The device sees the same image as the user and can be controlled via gestures or speech. The display opens up a separate digital information layer in the real world. There are holographic elements at user-defined positions that react just like physical objects and with which you can interact. This is called mixed reality.
If you want to buy AR glasses that are specifically suited for industrial use, you are definitely right with the HoloLens 2. The data glasses were explicitly manufactured for this purpose and offer a wide range of applications in this respect – especially in terms of remote maintenance and location-independent problem solving. In order to optimize the glasses for use in industry, they have undergone numerous improvements compared to the previous model. The switch is therefore definitely recommendable!
Improved and new features of HoloLens 2
Those who want to buy the second version of the Microsoft HoloLens 2 will first notice that there is not much change in terms of weight and size. Both Microsoft glasses are available in one size. The changes of the new data glasses compared to the previous model mainly concern functional aspects, the field of view and the handling. You can read why it is worth buying the new HoloLens 2 in the next sections.
Field of vision
The field of view in the second version of the HoloLens is many times larger than in the predecessor. This improves clarity and makes interacting with holograms much easier. A good reason to buy the new HoloLens 2.
Resolution
The Microsoft HoloLens 2 data glasses have a better image quality. The resolution is now 47 pixels per degree. Compared to the predecessor, this is comparable to switching from a 750-pixel TV to 2K.
Performance
The new Microsoft AR glasses have a battery life of two to three hours during use. Charging is done with a quick-charge function via USB-PD, so the glasses are quickly ready for use again. There are no fans installed in the data glasses, which is why the cooling is completely passive.
AI algorithm
The new AI algorithm of Microsoft's HoloLens 2 helps make holograms easier and more intuitive to use. When you buy the data glasses and put them on for the first time, a neural network is used that adapts an individual 3D model to your hands. This provides even more precise tracking and enables instinctive interaction with the holograms.
Voice control
Although Microsoft's first data glasses could already execute voice commands, this function has been drastically improved in the new model. Thanks to voice tracking, the voice control could be optimized.
Wearing comfort
If you already own and have used the HoloLens 1, you will already notice significant improvements when putting on the successor model. The data glasses are only a few grams lighter, but they have a better center of gravity, which is why they can be worn very comfortably and, above all, painlessly even during longer use. The temple is elastic, which supports easy donning. There is a knob on the back, which allows the glasses to be adjusted to any head shape and size. Even spectacle wearers can use the data glasses without any problems thanks to the new dual-in-fit system. The flip-up visor allows for a quick switch between real reality and mixed reality. Buy HoloLens 2 early and gain a competitive edge.
Camera
The new HoloLens is equipped with four depth cameras. This way, an excellent spatial display technique can be guaranteed. Objects and surfaces of reality are recognized well. The camera's quality is also convincing: Photos have a resolution of 8 megapixels, and videos have 1080 pixels.
Hand tracking
A very intuitive use is possible with the HoloLens 2 from Microsoft thanks to hand tracking. You grasp, touch and move the holograms in a completely natural way, to which they react like real objects. There is no need for pre-programmed gestures because there is 25-point tracking on the hand, which can be used to process any hand movement. You can also open the menu by pressing a virtual button on your wrist.
Head tracking
When you buy the new version of HoloLens 2, you also benefit from head tracking. Control the data glasses with completely natural head movements and experience how your field of vision changes as a result.
Eye tracking
Brand new in the second version of HoloLens are the sensors that measure the user's eye movements. These sensors are able to record where your gaze moves and which objects you fixate on. This allows the system to better recognize your intention and determine exactly which hologram you are about to interact with. The sensors can also automatically determine your interpupillary distance and adjust the display of the holographic elements accordingly to achieve an optimal result.
Biometric recognition
Also practical: The second-generation HoloLens offers biometric authentication via iris recognition. This works via Windows Hello authentication. This way, the data glasses can be unlocked much easier than HoloLens 1 and can also be used securely by several people in a company.
Scope of delivery & applications for the HoloLens 2
Scope of delivery when purchasing the HoloLens 2
The scope of delivery of the Microsoft HoloLens 2 includes:
Data glasses
Head mount
Charger with USB-C cable
Carrying case
Microfiber cloth
Applications for the HoloLens 2
The second version of HoloLens 2 is compatible with many practical applications. These include, for example, Dynamics 365 Remote Assist, Dynamics 365 Layout and Dynamics 365 Guides. This allows the AR data glasses to be individually adapted to the requirements of your company.
Buy HoloLens 2, as a mixed reality solution for the industry
The HoloLens 2 was specifically designed by Microsoft to simplify your everyday work life through Mixed Reality technology and take it to a whole new level. Whether you're in industrial manufacturing, automotive, retail, healthcare, or a completely different industry, HoloLens 2 brings the best capabilities to prepare businesses of all kinds for the future. Buy the HoloLens 2 now and take your business into the future. Read the following sections to find out how the data glasses can be used in different industries and make daily work easier.
Industrial manufacturing
HoloLens 2 can significantly transform manufacturing – by improving employee training, increasing operational efficiency, and reducing scrap and defects.
Healthcare
Mixed reality technology is opening up completely new possibilities in healthcare. Diagnoses can be accelerated, surgical interventions can be made more precise, treatments can be made more personal, and treatment success can be improved.
Education
With HoloLens 2, learning outcomes can be optimized. New education models with less face-to-face instruction are no problem, independent learning is encouraged and learner engagement is increased.
Architecture
In the construction industry, HoloLens 2 is revolutionizing digital construction. 3D models of the building can be created and viewed on site by the wearers of the data glasses. Windows, ceilings, wall elements or finished houses are projected into the real environment.
E-commerce area
In e-commerce, mixed reality technology is helping to add experiences to online shopping that were previously only possible in brick-and-mortar retail. The shopping experience can be made much more exciting, which improves the user experience and ultimately increases sales.
Company
With Dynamics 365 and HoloLens 2, every company will find the perfect conditions for customer service, sales and corporate management. Data can be prepared efficiently and business processes simplified.
Advertisers and marketers
Advertising can be revolutionized thanks to HoloLens 2, because viewers can be literally drawn into the brand experience. They are immersed in the virtual world and perceive the advertising message more intensively.
HealthCare and Education
Highly sensitive data is involved in the healthcare and education sectors. The processes must be controlled with the highest level of security and precision – two points that can be realized without any problems with the HoloLens 2, which is why it is perfectly suited for use in the healthcare market.
Real estate
The HoloLens 2 enables customers and consultants to view real estate in an almost real impression without having to be on site themselves. Digital elements such as PowerPoint presentations can also be projected into the real environment.
Shipbuilding
In shipbuilding, mixed reality solutions help make confident predictions about a ship's characteristics. Simulation technologies help better predict the impact of design and construction changes on the finished ship.
Automotive industry
When it comes to prototyping in the automotive industry, HoloLens 2 helps shorten time-to-market and reduce costs. Realistic virtual prototypes can be implemented that are perfect for testing purposes.
Aerospace
In the aerospace industry, complex products have to be developed, some of which are huge in size. There is zero tolerance for error in this process. HoloLens 2 helps meet this challenge and ensure a high level of safety, efficiency and ergonomics at all stages of product development.
Building materials industry
With HoloLens 2 data glasses, building materials manufacturers and customers always know the current status, which avoids communication errors and delays. Errors due to outdated plans can also be reliably prevented with HoloLens 2 because project information is stored centrally, allowing access from anywhere.
Maintenance in industry
Technicians tasked with maintaining or repairing industrial machinery can use HoloLens 2 if they get stuck on site. Instructions for action and checklists for maintenance can be displayed via data glasses, and the progress of the job can be documented.
Mechanical and plant engineering
As a mixed reality solution, HoloLens 2 helps companies in the field of mechanical and plant engineering to optimize processes and increase productivity. It offers the possibility for holistic solutions.
Conclusion: Advantages of HoloLens 2 for companies
Buy the Microsoft HoloLens 2 now and secure advantages for your company. In the next sections, we will summarize the most important aspects of the Microsoft HoloLens 2 once again.
Reduction of risks
Developers, operators and other project stakeholders can use HoloLens 2 for better planning. In this way, the tolerance for errors can be reduced. This drastically reduces many risks during development.
Increase employee productivity
HoloLens 2 has many advanced features that employees will enjoy. They will also help save time in everyday work, which will lead to a more efficient way of working. All of this also increases employee productivity.
Improving collaboration
Data glasses are capable of enhancing the actual workplace. It is possible to collaborate remotely, so even experts who are not in the company at the moment can see exactly what the users have in front of their eyes. This makes it possible to issue precise instructions, which improves collaboration.
Working together regardless of location
HoloLens 2 significantly reduces costs for training and travel, because it makes it possible to work together regardless of location. This also allows prototyping phases to be optimized.
Customer communication and engagement
HoloLens 2 provides an experience that effectively differentiates you from your competition. Show tangible and real-world applications and sustainably increase revenue through better customer communication and engagement. If you would like to buy a HoloLens 2 in Germany, we are your contact.
Cost and time savings
By not having to create real product models, the model can already be accessed during the development process. This leads to the fact that change requests can be implemented faster and more flexible, with the advantage of reducing costs and time.
QUESTIONS AND ANSWERS ABOUT BUYING THE HOLOLENS 2
DISPLAY
Optik: transparent holographic lenses (waveguides)
Resolution: 2×10³-3:2 light generators
Holographic density: >2.5×10³ light beams (light points per radian)
Eye-based rendering: display optimization for 3D eye position
SENSORS
Headtracking: 4 visible light cameras
Eyetracking: 2 IR cameras
Depth: 1-megapixel time-of-flight depth sensor
IMU: accelerometer, gyroscope, magnetometer
Camera: 8MP stills, 1080p30 video
AUDIO AND SPEECH
microphone array: 5 channels
Loudspeaker: Integrated surround sound
GESTURE AND COMMAND RECOGNITION
Hand tracking: two-handed, fully articulated model, direct manipulation
Eyetracking: Real-time tracking
Voice: Command and control on device; natural language with internet connectivity
Windows Hello: enterprise-class security with iris recognition
ENVIRONMENT ACQUISITION
6DoF tracking: position tracking at the world level.
Spatial mapping: real-time ambient mesh
Mixed reality capture: blending photos and videos from hologram and physical environment
COMPUTING POWER AND CONNECTIVITY
SoC: Qualcomm Snapdragon 850 compute platform.
HPU: Second-generation customized holographic processing unit
Memory: 4 GB LPDDR4x system DRAM
Storage: 64 GB UFS 2.1
WLAN: WLAN 5 (802.11ac 2×2)
Bluetooth: 5
USB: USB Type C
FIT SHAPE
One size fits all
Suitable for eyeglass wearers
WEIGHT
566 g
SOFTWARE
Microsoft HoloLens 2 Operating System: Windows Holographic
Microsoft Edge
Dynamics 365 Remote Assist
Dynamics 365 Guides
3D Viewer
PERFORMANCE
Battery life: 2-3 hours when used
Charging: USB-PD with fast charging function
Cooling: passive (no fans)
Contains lithium batteries
HoloLens 2 optimizes time-consuming and costly processes in your company. On the one hand, employee productivity is increased and customer communication and collaboration are improved. On the other hand, risks and errors in planning or production are reduced.
The power button of the HoloLens 2 is located at the back right, above the charging port.
To turn on the glasses, the button must be pressed for at least 4 seconds.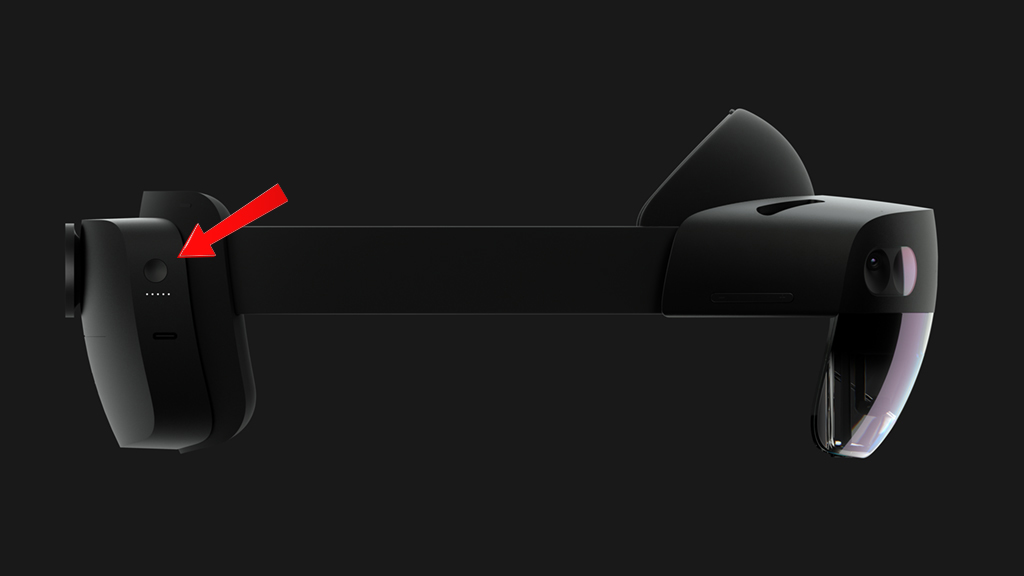 The HoloLens 2 can be fully charged within 65 minutes using the included charger. For an optimal charging speed, the data glasses should be in standby mode. However, it is possible to charge the HoloLens from 0 to 80% within 30 minutes using the Quick Charge power adapter.
There are several ways to determine the battery status. First, the battery status of the HoloLens 2 can be read from the LEDs below the power button of the HoloLens 2. Up to five levels of the LED display are shown. Each LED light indicates 20% battery level. If the battery level is very low, the LED bar only lights up briefly. Otherwise, the battery status of the HoloLens 2 can also be retrieved via the host PC.
The battery life depends on how much the HoloLens 2 is used. If the glasses are used heavily, the battery can last 2.5 hours. With normal use, the battery usually lasts up to 5.5 hours. However, the glasses can be fully charged within 65 minutes.
Yes, you can use the HoloLens 2 while charging, but the battery charge rate is reduced because the HoloLens 2 prefers operation over charging.
The HoloLens 2 has a flip-up visor, which allows the user to exit the mixed reality applications at any time without having to remove the glasses. Furthermore, the data glasses are designed in such a way that the user can easily wear his own glasses underneath the HoloLens 2. Neither in the wearing comfort nor in the operation and use of the HoloLens 2, one is restricted by his glasses. Even eye tracking works smoothly with the user's own glasses.
If the HoloLens 2 is shared with multiple users, a login has to be performed when restarting or after a standby. If you want to change a user, the person can log in via Windows Hello using biometric authentication via iris recognition.
The HoloLens 2 has a resolution of 47 pixels per degree (2048 x 1080 (per eye)). In direct comparison to the predecessor HoloLens 1, which only had a resolution of 1280 x 720 (per eye), it thus performs much better.
We are passionate about developing IT solutions that improve service and efficiency. We offer consulting, software development and also support.
Feel free to contact us, we will find an individual solution for you in this course.
Depending on the requirements, the amount of work varies. Plansysteme already has over 20 years of experience in software development, we always strive to find the most economical solution for you.
Feel free to contact us without obligation! After checking your requirements regarding the software to be created, we will send you an offer with details regarding the amount of work and the duration of the project.
Buy the HoloLens 2 now
WE WILL GET BACK TO YOU AS SOON AS POSSIBLE